Installations

Let's make your vision a reality!

We take every step possible to plan out your installation to ensure that there is little to no disruption in your daily schedule. Starting from the initial consultation, we work with you to design and install products that are true to who you are.

Plus our flexible payment plans ensure that you can get started without any stress of a lump sum ahead.
Accommodating your schedule to be perfectly effortless
Each step in our process is planned out with you to ensure a frustration-free experience from beginning to end.
An initial consultation helps realize your vision
During our first talks, we'll bring our past experiences to the table to help you formalize and see what's possible in your space. Ensuring we stay on-budget, we provide a range of high-quality materials to find a solution that fits.

From approval to creation

Once we've settled on a design that you will be proud to own, our expert carpenters will begin realizing your vision inside our Edmonton studio. From here, we'll provide clear plans for installation and work around your schedule to keep everything timely and convenient.

Installation and final sign-offs

Inside your space, we aim to be precise and efficient as we complete your installation without any disturbance. We are committed to your complete satisfaction, and so our work doesn't end until you are proud and delighted with your new cabinetry.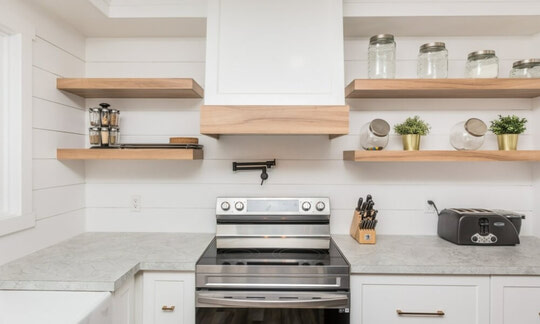 There's a special feeling that comes with being a homeowner---together, we'll create a space that is emblematic of you and your family.
Turn your working space into a brand asset by working with our designers to capture the essence of what makes your business special.
Creating one-of-a-kind custom wood carvings that can turn any idea, big or small, into a reality.